Professor Stephen Roach
Interview with Professor Stephen Roach, Former Senior Fellow at Yale University's Jackson School of Global Affairs
In an interview conducted by the Association during Professor Roach's visit to Hong Kong, the Professor talked about what makes the Jackson School unique and why study Global Affairs now.
The Association: What makes the Global Affairs program at Yale Jackson Institute for Global Affairs unique compared to other similar programs?

Professor Roach: Yale has over 300 years of history. Jackson Institute for Global Affairs has been in existence since 2009, which is relatively new by Yale standards. The Institute adopts a broad, interdisciplinary and bespoke approach. We focus on developing tools and applications to those tools in studying global affairs from multiple points of view: Security, Economic Development, Global Demography and Global Health. The real advantage of the Institute, I think, is the size of the class. Unlike some of our peer universities, the small class size of around 30 students per year really enables us to customize individual regimens of study for each student as they go through the two-year Master of Global Affairs program.
The Association: Why Global Affairs? Why now?

Professor Roach: I've been a participant in the global debate for the past 35 to 40 years. I've never seen a more challenging time. It is about understanding all the powerful new dynamic forces at work in this day and age, from what's going on in China to the politics in US, Europe, even issues in North Korea. There's never been a more important time to be engaged actively in studying global issues and figuring out a way to make a difference in the world through Global Affairs.

14 December 2017


Biography:
Professor Stephen Roach, former Chairman of Morgan Stanley Asia and the firm's chief economist, is a Senior Fellow at Yale University's Jackson Institute for Global Affairs and a Senior Lecturer at Yale's School of Management. He is a frequent TV speaker and a columnist to newspapers and economics magazines on World Economy. Professor Roach is the author of Unbalanced: The Codependency of America and China. He sits on various US government board and committees including Council on Foreign Relations.


During a journalists' meeting on 14 December 2017, Professor Roach talked about the global economy. He also mentioned the Kwok Scholarships for the Master's Degree in Global Affairs at Yale University, for Hong Kong students to apply.


Professor also talked about what classes he teaches at Jackson School and how the School prepares Hong Kong students for Global Affairs. Watch Professor Roach's interview video for details.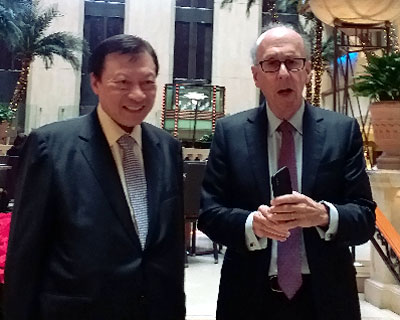 Dr Walter Kwok Ping-sheung and Professor Stephen Roach, on 14 December 2017, in Hong Kong