Dr. Walter Kwok Ping Sheung (1950 – 2018)
Our Founder, Dr. Walter Kwok Ping Sheung
Scholarships to help shape the future of Hong Kong and China
Best known as the developer behind some of Hong Kong's most famous landmarks, our founder, Dr. Kwok, was also deeply passionate about giving back to society. He founded the Walter & Wendy Kwok Family Foundation, which donates to many charities in Hong Kong, as well as the Kwok Scholars Association, which provides scholarships for renowned universities around the world to students committed to public service. It was Dr. Kwok's vision and hope that the Kwok Scholarships would be a major driver that would help to foster a new generation of policy leaders to lead and help shape the future of Hong Kong and mainland China.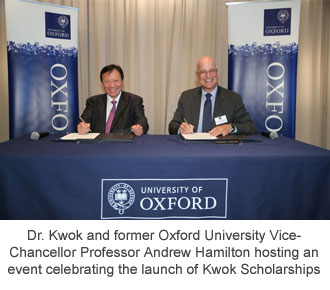 As a firm believer that education can improve social mobility, Dr. Kwok hoped that awarding scholarships to outstanding individuals whose financial circumstances would have otherwise prevented them from pursuing their studies would provide them with an inspirational and transformative opportunity. He also hoped these outstanding individuals would come back home, after their studies, and make the most out of their education to help identify potential solutions for the myriad challenges that Hong Kong and China face in today's complex global environment.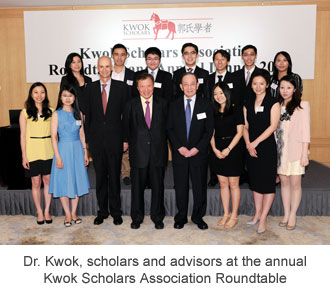 Since the launch of the first scholarship in 2012, our budding community of Kwok Scholars, now 40 strong, continues to grow and provide different perspectives through their diverse personal and professional experiences and educational backgrounds. It is our greatest hope that the Kwok Scholars will continue to contribute to and effect positive change on our society for the benefit and betterment of Hong Kong and China.