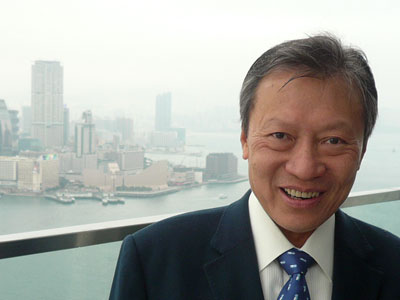 Dr. Walter Kwok Ping Sheung
Inspiration for the Kwok Scholarships – Message from Dr Walter Kwok, Chairman of the Walter Kwok Foundation and the Kwok Scholars Association
Scholarships to help shape the future of Hong Kong and China
It is my vision and hope that the Kwok Scholarships will be a major driver that will help to develop a new generation of individuals to lead and help shape the future of China, and Hong Kong in particular, in the years and decades to come.
For me personally, it is exciting and rewarding to be able to support outstanding students from Hong Kong and mainland China to pursue studies at some of the world's great universities. In offering them a once-in-a-lifetime opportunity that they would not otherwise be able to take up I also hope that they will in turn, once they have come back home, make the most of their education to identify opportunities and address some of the challenges that Hong Kong and China are facing in today's complex circumstances.
In Hong Kong, there is a strong temptation for our brightest students to enter the business world. While responsible business is an important factor in the path to sustainable growth and a peaceful prosperous world, through the Kwok Scholarships, I wish to recognise and support students with a personal dedication to public service as well as academic excellence. There are many forms of public service, whether working with government, political parties, policy think tanks, NGOs or the media, and people in each of these areas can make a vital contribution to our society for the benefit of the Hong Kong community and betterment of China.
Graduate studies are important in developing skills, knowledge and experience in a given field that will underpin career success, but undergraduate study can be an even more important time in life, shaping a person's outlook and values and different fields of study may help lay the foundation for a career in public service
The first Kwok Scholarships were awarded in 2012 to two talented students, one from Hong Kong and one from Beijing, to pursue the 1-year Master of Public Policy programme at the Blavatnik School of Government at the University of Oxford. In 2014 I was pleased to announce the extension of the scholarship programme to cover undergraduate courses at the University of Oxford, including (but not limited to) the famous PPE (Philosophy, Politics & Economics) programme, which has been studied by many prime ministers. Starting in 2015, full funding is being provided to two students each year from Hong Kong and China for the duration of their undergraduate course.
There are many educational opportunities available today and we have already started sponsorship of one student a year to pursue the one-year M.A in Global Affairs at Yale University's Jackson Institute. As the work of the Foundation and Association expand, I anticipate that further scholarships will be announced and look forward to the building of an ever-growing community of Kwok Scholars in Hong Kong and China.
Dr. Walter Kwok Ping Sheung